The Importance of Technical Knowledge in Fashion Design and the Basic necessary Skill Set
Category | June 05, 2021
The education of Fashion Design according to me has 6 basic skills that needs to be mastered. To list them out:-
Pattern Making Skills
Draping Skills
Construction Skills
Textile/Fabric knowledge
Surface Development/Embellishment skills
Sketching/Croqui Development skills & Flat Sketches (On paper or on digital media)
The rest of the skills usually taught in most institutes (atleast from where I come from – India) such as marketing, management, fashion history, Fashion Vocabulary/Terminology, Fashion forecasting/trend research/understanding, fit analysis, Quality analysis, fashion technology, industrial processes, fashion events, etc. come under the banner of soft skills development, needed by every designer for the development of his/her own holistic development or as a designer to be of renown or to serve and grow in an organization.
Of course! I am not disparaging the above mentioned soft skills as unnecessary, rather I am just reorganising the skill set as required/necessary skill set and soft skill set for the development of every fashion designer, of which I will not actually delve into in this blog about the soft skill set. I will be concentrating on the 6 basic necessary skill sets.
Pattern Making Skill Set
The art of Pattern Making is probably as old as civilization itself and concentrates in the art of Basic Geometry. Understanding of the 3 basic variables such as width, breadth and height are at play here. But the possibilities are infinite!
Pattern Making basically (again! according to me) has just 6 Basic Patterns. They are
Basic Bodice Block (Or the top)
Basic Torso Block (Or the dress/Gown Block)
Basic Sleeve Block
Basic Trouser Block
Basic Jacket Block
Basic Skirt Block
(Separate set of Patterns for Menswear and Womenswear, but the above set terminology remain the same for both genders, some might argue that there is a 7th basic set called the shirt block, yes! in menswear, many consider the shirt block as a separate basic block, but that is also a variation of the torso block which might not be so relevant in menswear, but the basic idea remains the same)
Mastering the above set of Patterns, as well as good understanding of Variating the Basic Pattern set as per design and Grading according to size is what this skill is all about.
At advanced levels, there are many more techniques which can be used to manipulate the design but at the core, the above set of patterns are only variated as per the need of the design/manipulation.
The left Image is my experiment in workshop held by Mr. Shingo Sato which teaches us advanced skills of Pattern Making using Origami Techniques (advanced techniques), the right image is a trial/test fit of the Women's Jacket Pattern taken by me as guest faculty at National Institute of Fashion Technology, Kannur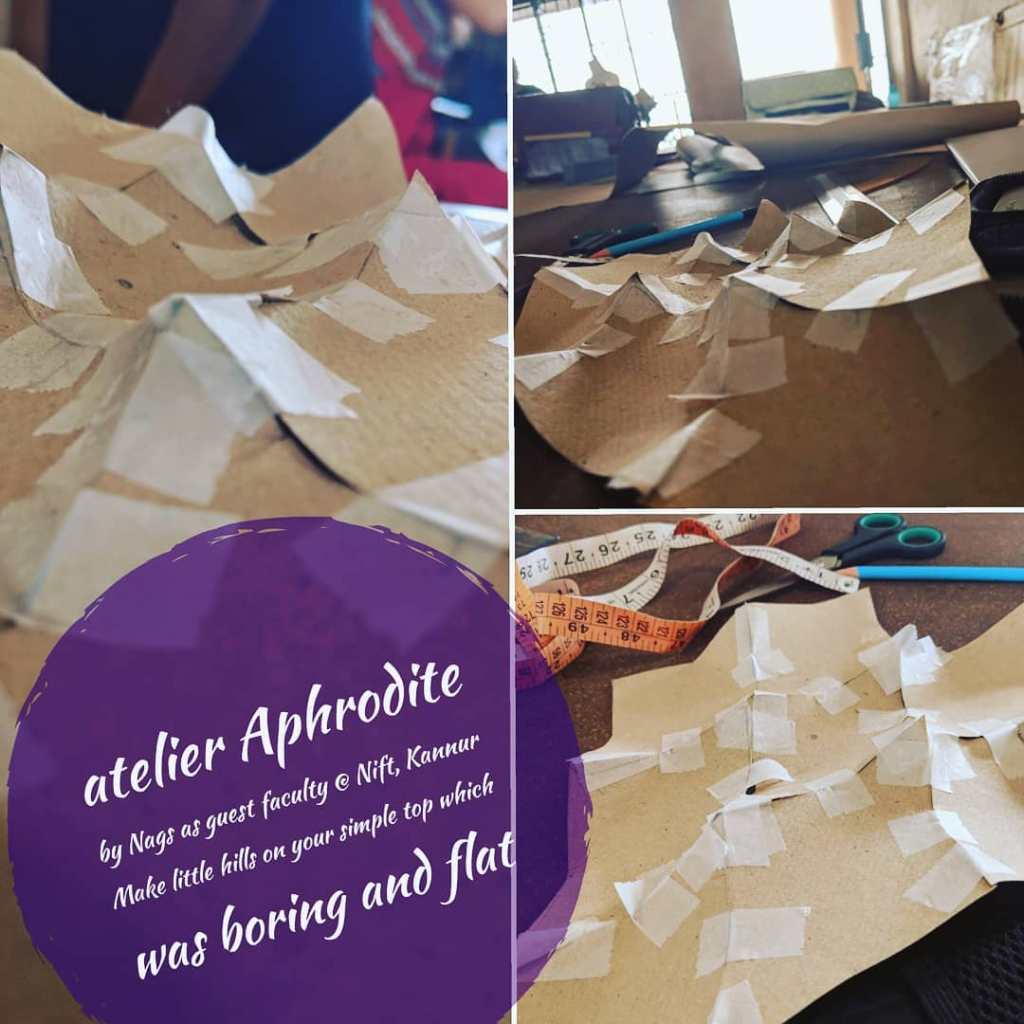 I apologise for the shoddy use of these images which were downloaded from my own facebook page, Aphrodite by Nags. The left image is a test/trial fit of basic corset variation which is variated from the Basic Torso Block using contouring principles, taken by me as guest faculty and the right image is the pattern of Basic 3D development variations as part of Creative Pattern Making Module taken by me as guest faculty, both in National Institute of Fashion Technology, Kannur.
Draping Skill Set
Draping is a skill set that is probably as important to a designer as much as pattern making is for the industry (in many cases for designers as well). Many designers across the world prefer draping techniques and developing patterns (when necessary) over pattern making techniques at the initial design development stage.
Relatively, the basics of draping can be mastered easily but at an advanced level, one might argue pattern making is far easier and faster, again! I leave this argument for the individual's/reader's/designer's perception entirely.
Yes! at first when the designer is working towards unique garments line, not producing many garments of the same design, draping techniques can come in very handy, but if we are looking for a production line of the particular design, then the max draping intervention can be, is to drape the design and transform it into a pattern which can be repeated.
The idea of draping is to take a large piece of fabric/sample fabric/muslin and to drape the design intended over a body form or mannequin, chop of the unnecessary and maintain the necessary parts of the drape, mark the required marking and then go onto the construction/pattern development stage of the design.
Construction Skills
Probably, the most important skill set of all skill sets, Pattern making and Draping skills I can classify as two individual skill sets and may or not be relevant to each other, but after both of the above skills, this skill set is relevant, after all, who would want to wear an unfinished garment or a garment that is not joint together?
At the basic or amateur level, we can call this hemming/stitching, probably in fashion terminology we can call it construction. But whether the designer is an amateur or well informed and knowledgeable, this is stitching/hemming using hands or machines!
But this term – Construction, does not limit itself to just stitching, there are other small aspects to construction other than just joining the different panels of the garment like applying of closures, fusings (if needed to thicken or harden the garment), riveting techniques (to give strength to particular areas of the garment, such as denims, etc.), finishing techniques such as hemlines/hand finishing, etc.
I do apologise to the girls in the image, this image is used without their knowledge and its probably about 3-4 years old image. But the pretty girls being busy at finishing their designs during my stint as an assistant professor (ADHOC) at National Institute of Fashion Technology, Bangalore. The image is of the Pattern Making & Construction lab at National Institute of Fashion Technology, Bangalore
Another student busy on her industrial Juki interlock machine (which is probably one of the most sought after machine for stitching) stitching up the different panels of her design, same as above, during my stint as assistant Professor (ADHOC) at National Institute of Fashion Technology, Bangalore. This is also an image of the pattern Making and Construction Lab at National Institute of Fashion Technology, Bangalore.
Textile/Fabric Knowledge
Now, at this point is where a designer's play comes necessary, how would a designer design without understanding the fall and drapeability of a fabric? Atleast at the basic level! He/She needs to understand the fabric, how it behaves when treated in a certain way.
Of course! At a higher stage, understanding of weaving/knitting techniques, fabric surface manipulations such as print, embossing, etc. comes into play when the designer is designing his/her design from the weave and print level itself to make the design his/her design wholeheartedly.
There are Textile/knitwear designers/specialists out there who could help the designer, but every fashion designer sure needs to be aware or atleast have basic knowledge about how fabrics are made/manufactured and how they behave, their strengths and weaknesses, etc.
Surface Development/Embellishment skills
Another skill inter-related with textile. Many a time, a design does not end with just weaving or knitting and surface development such as embossing/printing techniques. Coming from a land which loves surface embellishments, India!, I could weave stories about how much embellishments complete a design.
Indian designers such as Ritu Kumar, Sabyasachi Mukherji, etc. and western designers such as Elsa Schiaparelly, Chanel, Versace, etc. invest hugely in both effort and time for surface embellishments. After all, surface embellishments add glamour and elegance to any fabric/garment. Sometimes, it even completes a design and in few cases it is the design.
For example:- The drape of medium/heavy weight Linen/Cotton is more restrictive compared to most silk varieties which has more/better drape and fall, thus, volume in both these fabrics will behave differently.
Then comes the knowledge of materials used for surface embellishments available such as sequins, feathers, beads, mirrors, etc. They come in all shapes, sizes and colours, what matters, is what the designer needs to complete her design?
Sketching/Croqui development & Flat Sketches
Well, this independent technique is what many designers who don't have technical knowledge of all the above skills use! One needs to be able to visualise and draw the idea in one's mind well. Lets say, these are artists in their own lives. They may be capable of making beautiful garments without actually knowing how to make them, but what is fashion design? Isn't it the manipulation of shape and form in 4 dimensions – breadth, width, height and touch?
And for a designer with the technical knowledge of all the above skill sets, adding this skill set is the icing on cake! Allow me to explain – basically there are two types of sketches demanded by the fashion industry (on paper or on digital media) – they are croquis or sketches that show the design in a creative way which looks as if draped over a model and then there are flat sketches which is a necessary to understand the technical aspect of the garment. The former we call as illustrations and the latter we use in design specification sheets, filled with all design detailing(Imagine laying a garment flat on a flat surface, neatly ironed out without a single wrinkle symmetrically and sketching it out with all details).
Now flat sketches is what the industry demands as it is the detail that goes to the employee who is probably sampling, stitching, patterning the given design whereas illustrations can be used when sitting with a client one on one.
Some Practise sketches done by me in practise
With this, I would end this Blog and I hope the reader understands the importance of having technical knowledge/skill sets in design before he/she embarks on his her/her journey in design as a career.
Another exercise as part of the workshop attended and constructed by me, organized by Mr. Shingo Sato and Vidya Fashion Academy, Bangalore
A student showing off her work on 3D Pattern making as part of the Creative Pattern Making Module, as Part of the 7th Semester Study organized at National Institute of Fashion Academy, Kannur where I was called in to teach the module as a guest faculty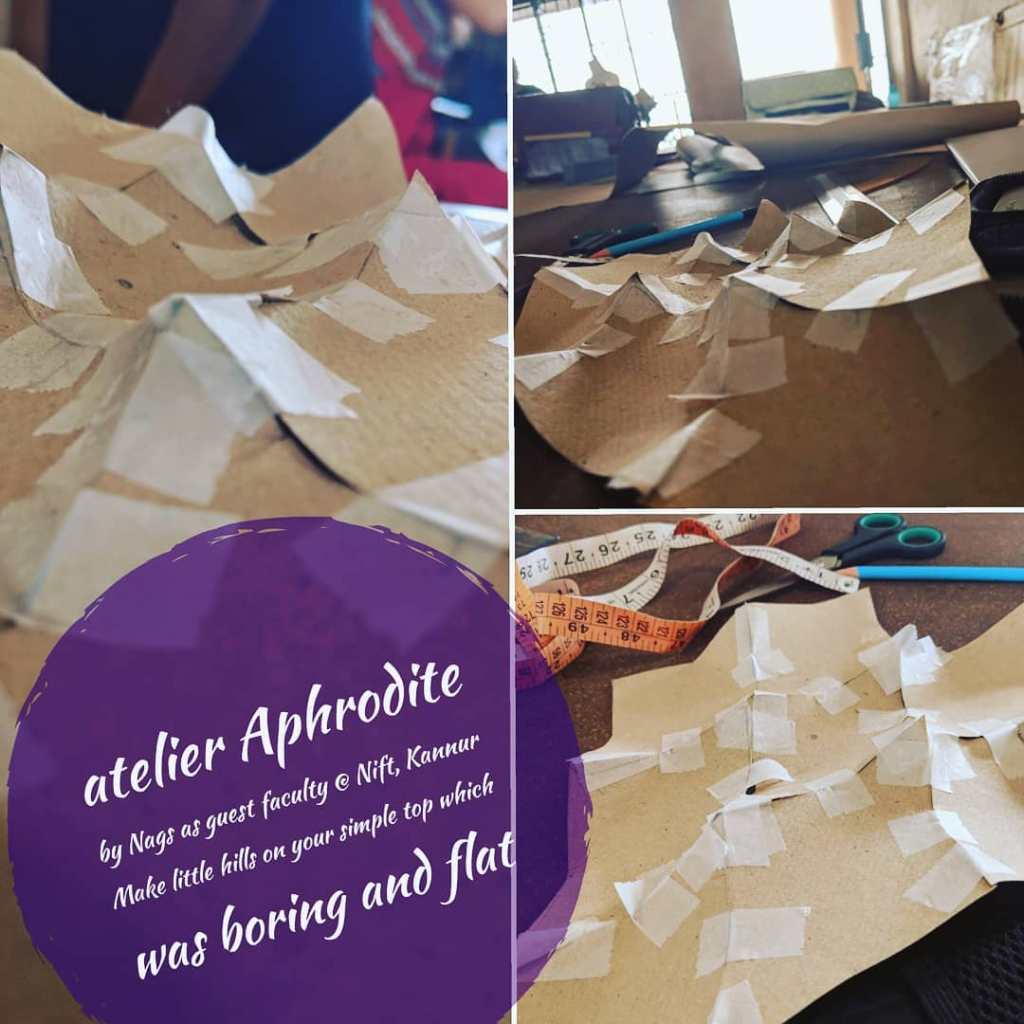 Again, Apologies for the imagery, It was downloaded right out of my Brand Page on Facebook, Aphrodite by Nags, this image showcases some of the 3D Pattern explorations taught by me at National Institute of Fashion Technology, Kannur, as part of their 7th semester curriculum in Creative Pattern Making module.
'8' Body Shape or the Hourglass Body – What to wear for your body type?
Category | June 05, 2021
Menswear: Looking Dapper: What to wear: Based on Body Types and Skin Colours: Boys and Men: Menswear plus tips and tricks.
Category | June 05, 2021
Fashion Photoshoots and Collaborations (Collabs)
Category | June 05, 2021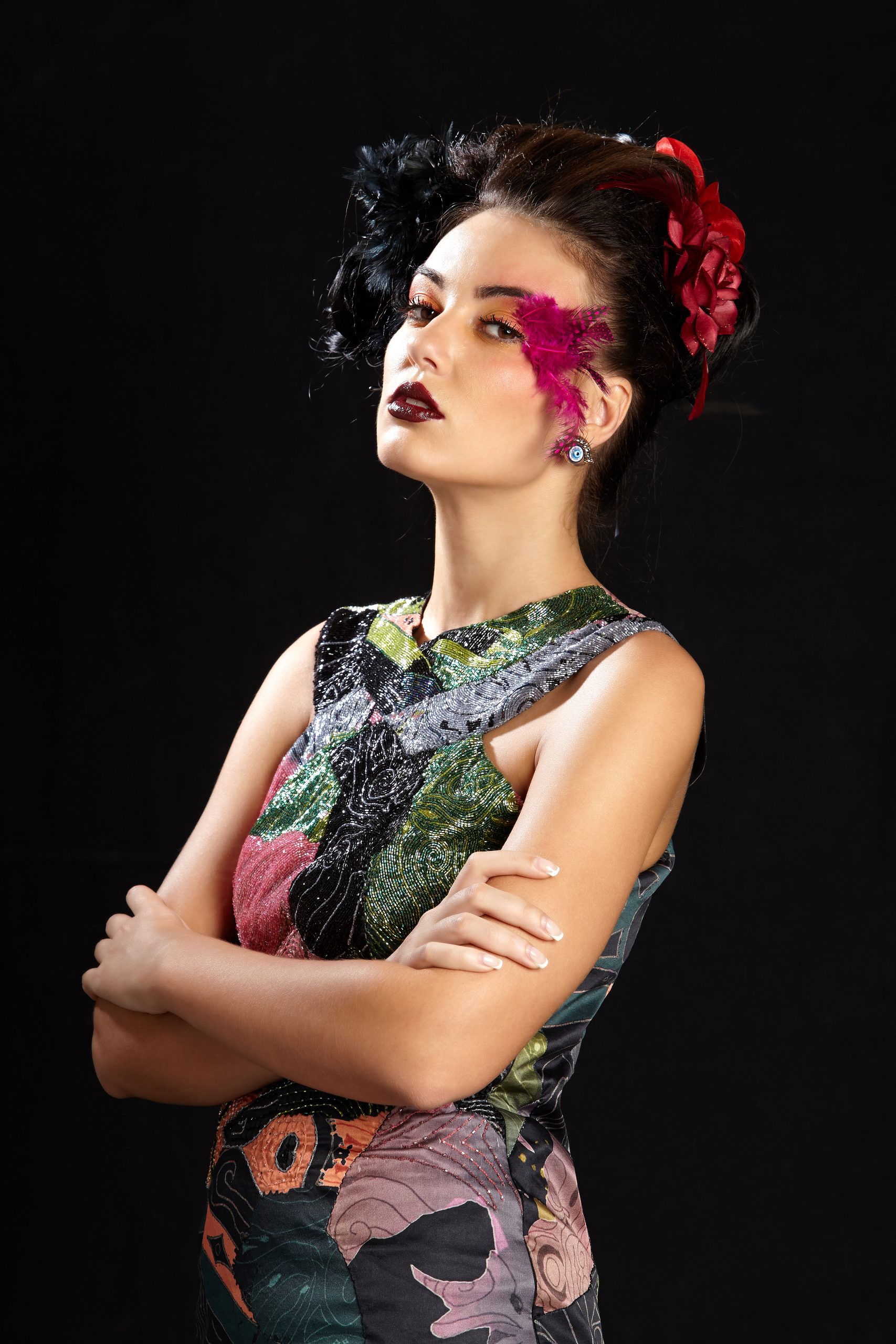 Fashion Designers – What to do and What not to do for young designers and aspiring designers
Category | June 05, 2021
Skin Tones and Colours that suit your skin Tone
Category | June 05, 2021